News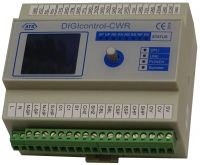 DIGIcontrol-CWR
Experience the new combined dual heat/cooling and electrical energy meter with integrated PID regulation. DIGIcontrol-CWR is an ideal unit to control all energy flows of a heat pump or heat distribution panel and also to realise weather compensated flow temperature control.
2018 European patent No. 3038065
European patent No. 3038065
Good news at the beginning of the New Year. We have been pleasantly surprised with the European patent for our intelligent video analytic Network switch.
DIGIcontrol-FC3800 VdS approved
DIGIcontrol-FC3800 Intruder Alarm System has been approved by VdS for the highest Class [IAS].
DIGIcontrol-FC3800, I/O Module DIGIcontrol-E8C and remote RFID control panel is immediately available with VdS Class C approval.
Certificates are available under "download" .
Pages